Excerpts below – for a full overview on fees for all aircraft incl. airships please download our current fee list:
Landing Fees:
We grant a price reduction of 25% on landing fees for training and instructional flights above 1,201 kg MTOW (except on Saturdays, Sundays and holidays).

Approach charges according to FSAAKV
The approach charges according to the FSAAKV is invoiced in the name and on behalf of Austro Control GmbH as our air navigation service provider.
The calculation formula:
                                     Charge = (MTOW in t / 50)0,7 x charge rate
current charge rate:  130,35  Euro
Parking / Holding Fees: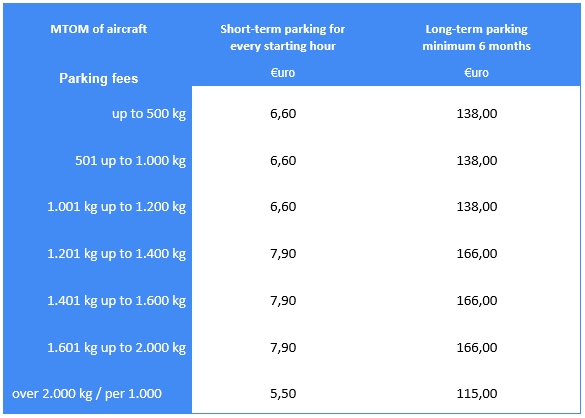 All prices are exclusive German VAT (currently 19%).
Please remember!
All times shown on our invoices are recorded by a computer and not always the same as the actual take-off and landing times. Therefore, those times must not be used for flight and logbook entries!
No responsibility will be taken for the correctness of the above information. Valid from: 1 April 2020.
Information subject to change.