Excerpts below – for a full overview on fees for all aircraft incl. airships please download our current fee list:
We grant a price reduction of 25% on landing fees for training and instructional flights above 1,201 kg MTOW (except on Saturdays, Sundays and holidays).

Every approach of aircraft under VFR, which in not affiliated to a landing:   3,50€
* Air control fees (see below) are only charged per approach under IFR or assumed instrument flight conditions!

Parking / Holding Fees: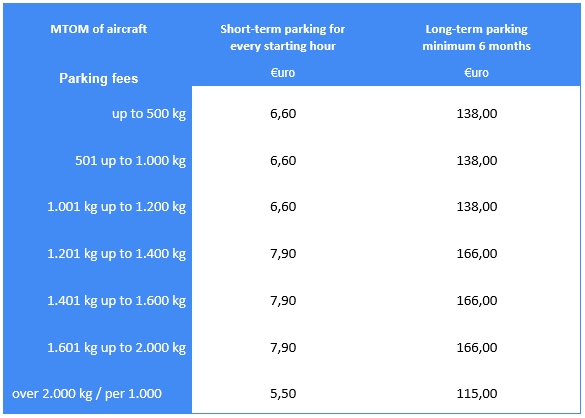 All prices are exclusive German VAT (currently 19%).
Please remember!
All times shown on our invoices are recorded by a computer and not always the same as the actual take-off and landing times. Therefore, those times must not be used for flight and logbook entries!
No responsibility will be taken for the correctness of the above information. Valid from: 1 April 2020.
Information subject to change.